Happy Valentine's Day!
This year for Valentine's Day, we thought we'd let you meet a few of the couples training at the Lepri Brazilian Jiu Jitsu Academy!
We asked couples what it was like to train BJJ together. Here are responses from just three of the many couples and families training at our gym.
Meet our BJJ couples!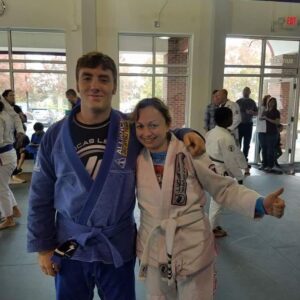 Anna & Joel
In this family, mom, dad, and kids train at the Lepri BJJ Academy!
Joel started training first, and trained for almost three years before Anna joined.
Now, they both love training together, and enjoy a sport they can share with their kids!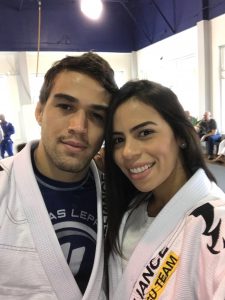 Taísa & Frederico
Our very own instructor Freddy loves sharing the mats with Taísa and their kids!
Freddy started training first, still in his teens. In fact, after years of training BJJ at different gyms, this is the first time they are training at the same gym here at the Lucas Lepri BJJ Academy!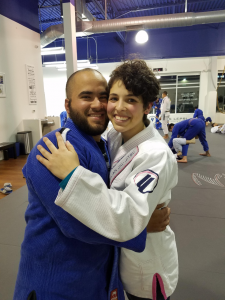 Adriana & Rodrigo
This couple actually met on the mats, and have never looked back!

Rod started training first, about three years before meeting Adriana when she joined the academy where they trained in Nicaragua.
What is it like to train BJJ as a couple?
We asked our students a few questions about their experience training Jiu Jitsu as a couple, and here's what they said.

How did you start training together?
Joel : It took some time for [Anna] to warm up to the idea [of training]. But what pushed her into it was watching our two oldest boys compete in some local tournaments. She is very competitive and fiesty, so naturally she fell in love.


What do you love about training together?
Taísa : We love many things about training together, not just the benefits of training, but everything that Jiu-Jitsu covers. We learn from each other, we share expectations and a passion for Arte Suave (the direct translation of Jiu Jitsu), we have excellent quality time together and we are happy to share the mats. It's great to have someone who understands and shares your profession or hobby, understanding the joys and difficulties.
Anna : We love training together because it is fun and we keep it playful and always laugh.
Rod : Just the fact that something I love so much, Jiu Jitsu, is something we can do together is so awesome. Not many women train Jiu Jitsu, especially not where we started [in Nicaragua].

What do you hate about training together?
Joel : She does not like the fact that she can never pass my guard or submit me.
Adriana : Rod does this really annoying thing I hate, and I tell him I hate it and he still does it. When we roll I go really hard because I need to tap him out! And I get a lot of good submission attempts on him, and make him work. When he's been fighting for his life for a couple of minutes and he finally passes my guard and gets me in side control, he just stops there, squashing me, and gives me a kiss on the cheek. It infuriates me, and I'm spazzing out trying to get out, and I can't. That little kiss just seems to say "aww, you're so cute when you fight," and I am trying to be everything but cute when we fight.


Funniest thing that has ever happened to you while training together on the mats?
Adriana : Part of my plot to get closer to Rod when we first met was to challenge him to this BJJ battle. We made these funny specs videos of both of us with our fight faces on, and I made this face-off poster and posted it all over Facebook. I'm actually a little embarrassed about it now. But it worked, because after that fight we went out to lunch and that was the day of our first kiss!
Anna : Every time I try to jump over his guard , it never works …but we always end up laughing. It does not however stops me from trying lol. One day it will work ? 
Taísa : The funniest thing is not exactly on the mats, but when we study positions at home on the carpet, it's not very comfortable but it sure is funny.