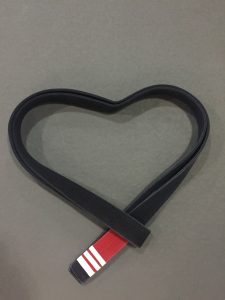 So you are cutting weight for a tournament and your significant other got you a box of chocolates for Valentine's Day.  Perfect gift right?  Most partners of jiu jitsu practitioners understand that although thoughtful, this might not be the best gift for a "hangry" partner!  Jiu jitsu practitioners' partners are definitely something special.  They put up with our long hours away from home for training, our smelly gis and our crazy diets and weight cuts.  They let us spend ridiculous amounts of money on the latest new gi and spats, tournaments and private lessons.  They listen to us talk about weird things like "berimbolo" and "spider guard" or sit with us as we watch technique videos.
Having a partner that shares our jiu jitsu passion is a luxury that not everyone has.  Having a partner that is patient and understanding with our jiu jitsu training is a must!  As noted above, they have to put up with a lot!  Be sure to constantly thank them and make sure to give them extra attention as needed.  Be supportive and attentive to their interests and hobbies with the understanding of how much you love yours.
For those of us fortunate to have a partner that trains, mat time is a great way to grow the relationship.  Sharing the passion of jiu jitsu can bring a couple closer together as they spend extra time together training.  Traveling together for tournaments turn into mini vacations and dinner conversations revolve around technique and upcoming matches.
As with all things in life, balance is key.  Balancing your love of jiu jitsu and the love of your life can be delicate but also rewarding!  Be grateful for your significant other and maybe you will get a new rashguard or gi instead of chocolates for Valentine's Day!
By: Paulo Roberto Santana