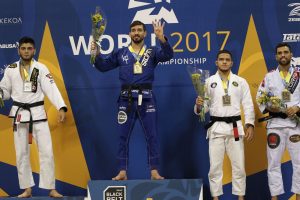 After an amazing performance at the Pan American Championship in March this year, the time had come for our head coach to defend his World Championship title in the lightweight division once more which was not an easy task. When looking at the brackets in his category, it was evident that it would be a war from the start. Regardless of the challenge, there was no doubt the preparation and drive Lucas Lepri had for this event. Consequently, his actions held true to his game plan; with a fierce game rarely seen, Lucas presented us with one of his best performances of all time: effective passes, beautiful sweeps, flawless transitions, relentless submissions, and world class take-downs. 
If there is one major goal in the sport of Jiu-jitsu, it is to become World Champion. An even harder feat is to not only win the title but to remain a champion once at the top. After winning his fourth IBJJF World Championship title, Lucas entered the IBJJF's Hall of Fame.
The Hall of Fame selection is made up of a select group of athletes who have accomplished the prestigious honor of winning at least four World Championships in the IBJJF organization, which is known to be the biggest and most legitimate organization in Jiu-jitsu competition.
If that isn't impressive enough, Lucas, once again, not only won another big tournament but did so without a single point scored against him. The same thing happened in the 2016 Worlds and 2017 Pan Ams. Lucas did so with complete support from his students, friends, and family. This is what the Lucas legacy is all about: hard work, preservance, commitment, teamwork, and family.
The Alliance team left their stamp this year at Worlds. Along the light weight title with Lucas Lepri, rooster weight Bruno Malfacine won his 9th World Championship, and Rubens Charles "Cobrinha" conquered his 5th World Title, and Nicolas Meregalli had an outstanding performance as a fresh Alliance black belt, winning the title of the heavy weights, and Tayane Porfirio also confirmed herself as the favorite between the women by being the owner of open division and super heavy weight.
The 2017 World Championships left us with so many good stories; the victories will be remembered; and the defeats will teach us to be humble and not ashamed of trying again and again. We all know that we walk together as a team, and this is just the beginning. By looking at Lucas as an example, we can follow our dreams and keep working hard. Anything is possible!
By: Paulo Roberto Santana