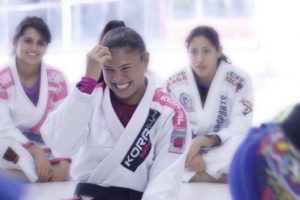 Monique Elias is one of the most  successful athletes of Alliance, having won the gold medal at IBJJF Worlds in all belts ranks since blue. Although her credentials are impressive, Monique is more than just her gold medals.  On and off the mats she is an inspiration and example to all female jiu jitsu practitioners. Monique Elias was born in Porto Alegre, Brazil and start training Jiu-jitsu in 2012 after meeting her future husband and professor Mário Reis. After falling in love with the gentle art she made the tough decision to give up her career in modeling.  Since then she has been a role model for all girls who train Jiu-Jitsu as well as a great example to all girls who want to become a competitive  Jiu-Jitsu athlete.
We asked Monique a few questions about her life, career and training. Keep reading to learn more about this impressive woman.
What was it like switching from a casual jiu jitsu practitioner to a competitor and what motivated you to dedicate yourself to the competitions?
When I started in jiu jitsu I already had decided in my mind to compete. I believe it was a seed planted by my teacher and husband. I remember accompanying the team to the CBJJE World Championship before I began training seriously. I watched Mario win his weight division and then the absolute division. I saw everything he felt, the gleam of happiness in his eyes after achieving such a feat. I told myself that I wanted to feel that too. It was that day that I knew where I wanted my jiu jitsu journey to go.
What is your training routine during the competition season and which championships will you compete in this year?
My preparation for the championships includes two jiu jitsu training sessions and one conditioning session per day, averaging about four hours total training.
As soon as the doctor releases me I will fight in everything that I can! Staying away for a while has really motivated me to come back stronger!
Do you think that social networks like Instagram and Facebook are contributing to the growth of the sport?
No doubt! And I would also include youtube. Everything ends up gaining more visibility.  I think the sport has even more to gain from the usage of social media outlets.
In comparison to men, lower payouts ​​are offered to women with the notion that there is a stronger male presence at championships.  In your opinion, is there something in academies that can be improved so that more women have the confidence and desire to compete?
As a woman I know that we still face this problem in many aspects. In addition to lower payouts, we also have lower salaries from our sponsors. The excuse is always the same: Women do not gain as much attention and visibility that men do. This is extremely relative. We can influence all genders.  I receive messages every day from fans of all ages and genders. My audience is mostly men. Many comment and tag their girlfriends on my social media accounts to show them how much Jiu-jitsu can be for women as well.
It is difficult for me to give an opinion on academies because I have trained in only a few different places in my life.  In our gym we have a strong female presence.  I think that when a girl comes to the academy and sees the many women training it makes her feel more comfortable to give it a try. Having a good teacher who knows how to understand and teach women is a big help.  Some seek to be competitive, others want to get in shape and some want a new place to make friends.  Understanding the goals of each woman is helpful in keeping them on the mats and training.  For example, the competition  training that is good for me might not be ideal for a girl who is just there to have fun and get in shape.  This also applies to the males at the gym as well. As for confidence for competition? I think that we will never feel 100 percent ready and confident, not even the day of.  Confidence is an eternal quest. The secret to sucess is to make the journey fun. When you fall, learn to get back up!  Always enjoy and make the best of your time on the mats for they will become some of your most cherished memories!
Thank you Monique for your responses!  We wish you a fast healing process and hope to see you at the tournaments soon!
By: Paulo Roberto Santana