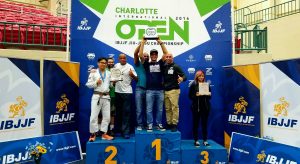 It seems that nearly ever weekend there's an IBJJF tournament in another major metropolitan city, from Los Angeles to New York and every place between the IBJJF is there. Conspicuously absent on that list of host cities however, was Charlotte. Until now that is. After the urging of competitors, coaches and teams, the International Brazilian JiuJitsu Federation announced that they would finally be bringing a tournament to the Queen City.
Hearing the news, the entire Lepri BJJ team immediately started preparing. Approaching only it's second year in existence, this would be the first opportunity for everyone to go compete and support one another. The collective goal for the team was as short as it was simple: just do your best. Lepri BJJ members from all walks of life stepped onto the mats and tested themselves; from the most seasoned competitor(s) and champions, to those just looking to try competing for the first time, the Lepri team had it all.
As the day went on and the excitement in the building grew, the camaraderie amongst the team began to grow exponentially. Nervous pacing and mentally reviewing previous matches gave way to excited screams and encouragement yelled from the sidelines. In between matches teammates looked for any familiar face they could find to briefly meet and share match results from earlier in the day, before sprinting off to the next mat to other teammates competing. The importance of results and wins became secondary to supporting one another.
At the end of the day as results were tallied the same question was repeatedly asked, "so how did we do?" Everyone had become so engrossed in supporting one another and making sure they had fun, thoughts of results had gone by the wayside. Medals were produced and unofficial tallies were made. Slowly a number started circulating, "321". People repeatedly asked, "is that good," as the minutes slowly ticked by. Finally it was announced, "Alliance, 321 points. First place".  Looks of shock slowly gave way to smiles and feelings of intense pride. With nothing more than the dedication of fantastic coaches, hard work, and supportive teammates the Lepri BJJ/Alliance Charlotte family had come together and taken the overall team championship in only its 2nd year of existence.
By: Kenneth Page