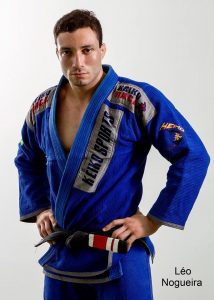 When Leonardo Pires Noguiera-known to most as "Leo"-began studying Brazilian Jiu-Jitsu, he did so because he was interested in learning self-defense. He didn't set out with the intention of one day becoming a Jujitsu World Champion as many people do, he just hoped it would be a good workout. But as it turns out…JuJitsu had bigger plans for him. Although his original focus was on self-defense he became successful on the competition scene almost immediately, winning his first World Championship when he was a blue belt.
Now a multiple time black belt World Champion, he joins a distinguished list of greats, including "Cobrinha" and Lucas Lepri, asked to teach at the prestigious Alliance Headquarters alongside team founder Master Jacare Cavalcanti. Leo was gracious enough to take time away from instructing to answer a few questions regarding his toughest fight, the pressure of being an instructor and what the future holds for him.
You're a 3-time Black Belt World Champion, what are some of your other goals in BJJ?
I hope to one day have my own school, and to create my own black belt world champion!
What's it like to teach at the American headquarters of such a prestigious team? Is there a lot of pressure to "uphold the standard"? 
*laughs* I can't lie, yes it's a lot of pressure!  Especially because guys like Cobrinha and Lucas were here teaching before me, so I absolutely must stay true to the high level of skill and integrity put in place.
Who are some of your favorite competitors to watch, outside of the Alliance team?
I can't pick just one so I'll say; Roger Gracie because his style of JuJitsu is so basic yet so efficient, Rafael Lovato Jr because (in my opinion) he is the best American BJJ competitor and the first and only one so far to be a Brazilian Absolute champion in the adult Black Belt category, Demian Maia who has the best BJJ in the UFC, and Xande Ribiero because he won the Mundials 7x with two absolute titles AND he's one of the few guys to win the adult division at 34 years old. He might be my overall favorite.
Who was the toughest competitor you've ever faced? 
Easy, Marcus Almeida Buchecha
What are your thoughts on the recent rise of No-Gi Submission only competitions?
I think that most of the submission only tournaments end up being kind of boring, because of the structure of the tournament most athletes don't want to take risks (to avoid losing all at once) so you end up having most fights end in a draw.
Last question for you Leo, if you could have a dream match with ANYONE…whom would it be?
Well out of the people considered "my generation" of BJJ competitors I think I've already faced everyone. So…let me think. You said anyone, so I'll pick someone from the older generation…Saulo Ribeiro.
By: Kenneth Page