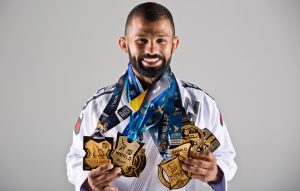 One of the most beautiful parts of Brazilian Jiu-Jitsu is the way in which it unites people from all walks of life. Once you step onto the mats it doesn't matter where you come from, how much money you have means nothing, and the progress you make is a direct result of the effort and hard work you put in-nothing else. In that way, Brazilian Jiu-Jitsu can be thought of as a fresh start. One person whom has accepted and embraced that new beginning is 8X World Champion- Bruno Malfacine. Always interested in martial arts but unable to afford the monthly fees Bruno went without, until his uncle stepped in. Seeing Bruno and his brother involved in a neighborhood fight their uncle decided enough was enough and brought them to an academy to start learning self-defense. Initially unable to support himself financially, it was this uncle that would change Bruno's life, and unknowingly….the future of jiujitsu.
Always a great friend of the Lepri BJJ and Alliance family, Bruno was kind enough to spare some of his time and gracious enough to answer a few questions we had.
How old were you when you got your black belt. How long did it take you to attain it?
At 19 years old I received my black belt, it took me seven years to achieve it. And during those seven years I actually only took one break from training, and that was for six months. Besides that six months of being out I was training consistently 6 or 7 hours per day-everyday, and competing with everything that I had. My dream was always to be the best athlete in my division,  and even with so many struggles in my life, deep down I knew it would work out one day and it did!
Which of your world championships was most special, and why?
Every year while you are training for the worlds you have to overcome something. All of the hard work, the sacrifices you make,  you give up so many things to spend more time on the mat. Each one is special and means something to me. But I would say two are most special.  In 2012 I fought with a serious injury in my shoulder. I had to train the whole camp with a brace because my shoulder was popping out of socket so many times, sometimes twice a day, but I decided to compete anyway. Thank God nothing happened in the competition and I could win the tournament, right after I had the surgery. In 2015 during the winning of the 10th Alliance World Title. We had won the tournament before all of the black belt finals took place and the celebration was right before my final match. Being part of that moment was something REALLY special.
Who do you model your style after?
I have had the privilege to train with one of the best, if not the best instructor that our sport has, Fabio Gurgel. He has always given us all of the tools that we need to become the best. Besides that I have the best teammates with each one having a different style. I frequently train with and learn from all of them. I try to absorb something from each one, some new technique or even just a little detail that I see I can put into my game
You've won 8 world championships, whats next for you? What's your ultimate goal?
Actually…..many people don't know this but I decided to retire last year. All my friends knew, but I just did not make it public. I received a proposal to transition over to MMA, and because of that I was to dedicating my career only to MMA but things didn't work out. After that setback my professor Fabio Gurgel and my friends started to motivate me to compete again. Fabio came to my house last year and we talked a lot. I remember I spoke with him and told him that I was going to compete again, and if I got 8 I would go for 10.  I'm just so competitive and it's been like this my whole life, if I decide to do something I give 100% to make sure I will be ready to perform the way that I want, it's going to always be like that.  But now I feel that I'm there more for my friends and students, to help them and see them reaching their goals instead of mine. It makes me happy and honestly satisfies me just as much.
What are your thoughts on the recent increase in submission only tournaments?
I love the submission only events. But to me, the problem is that so many competitors don't embrace the idea/concept of the rules and that's why we see so many draws. Most of them are fighting to not tap, and then they leave the mat happy because they didn't tap, isn't how I am. My first and only submission only event I fought against a tough opponent, almost 30lbs heavier than me. I did my best and fought well but I just couldn't submit him. I left so frustrated that I couldn't sleep for a couple of days. I felt the same as being defeated.
Would you be interested in any super fights? If so, who would you like to face?
There are definitely some athletes that I admire and that I would like to face one day. I've always been interested in facing Caio Terra in a NOGI match with submission only rules. He is a world champion so many times in NOGI and I would like to see if he's as good as he is marking himself OR, he just won so many times because he's lucky for not having so many guys in his division.
What're you thoughts on IBJJF vs Submission-only competitions?
I've competed under the IBJJF my whole career. It's great what they have been doing for the sport, working really hard to provide the best for the athletes. At the IBJJF you will see most of the competitors leaving everything on the mat because at the end there are no draws and there will only be one champion. You need to take  every risk to be number one. Though, as I said before the idea of submission only is great. They just have to create the best match up's because that way even if the submission doesn't happen we will be able to see a great entertaining match. Plus, the submission only events are trying to make the sport more professional by paying all of the athletes, which is fantastic.
The IBJJF is trying to do the same, I just think that instead of paying the PRO which is a completely different division, they should save that money to pay the most important competition, that being the World Championship.
Toughest person you've grappled against?
I think it's unfair to say only one name when you're part of the best team in the world, a team with so many phenomenal teammates. The only thing I can say is that a few times I wanted to cry because of the sequence of the rolls I had to do. 10 minute rounds with each, starting with Cobrinha, then Mario Reis, then Lucas Lepri, then Michael Langhi, then Monstrinho and Laercio.. it's nothing easy. But, I'm blessed because I know without my team I couldn't have gotten this far.
Who do you like to watch/ who's your favorite grappler?
I could tell you a lot of names from my team but I will pick someone from outside. I really like to watch Rodolfo Viera competing. He's so technical, with an aggressive style and he's always looking for the submission. It's the perfect combination.
Do you still plan on fighting mma?
I still think about it and I see myself as a champion If I decide to do. And I've been talking with some people….so maybe one day.
By: Kenneth Page