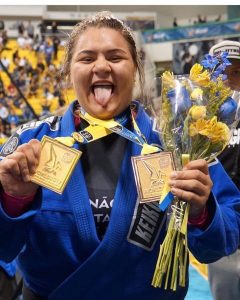 Our athlete of the month is a 2 time World IBJJF Champion, 2 time Pan American Champion, 2 time European Champion and 2 time Brazilian IBJJF Champion, and none other than Tayne Porfirio!  With titles such as these she needs little introduction and we are very happy to get a little more personal with this inspirational athlete!
Tayane hails from Rio de Janeiro, Brazil and trains under Gigi Paiva on team Alliance.  Not only is she amongst the most talented black belts, she has earned her prestigious titles at a mere 22 years old!  We wanted to know more about his young champion and her story.  How does she feel about all of her titles, and what inspired her to begin training in the first place?  Tayane answered humbly that looking back now she sees a story that she never thought that she would be a part of.  She began training jiu jitsu because her sister was already training and she wanted to lose weight.  Little did she know that soon her reasons would become less and less about the weight and more about learning respect, love and more about herself through great experiences.
Tayane is very active on social media and finds herself taking a stand on several controversial issues.  She is a very passionate advocate for women's rights in competitive jiu jitsu.  She recognizes a stark contrast in the amount of women who train as opposed to those who compete.  She believes that the lack of women competing has a direct correlation with the lack of women's rights in the sport.  She is trying to fight this buy activley encouraging all women to lose their fear of competing and show that women are just as capable as high level competition as men are.
Recently Tayane was announced by IBJJF as the top ranked black belt female for the 2017 competitive season.  This came as no surprise to fans of jiu jitsu as they watched Tayane dominate at prestigious competitions.  Her unblemished season included double gold at Europeans, Pan Ams, Worlds, and Brazilian as well as the Gracie Pro this past month.  A remarkable feat to accomplish and a dream of many athletes.  We asked her about her training and what she does to get ready for those big tournaments.  Tayane said she pushed forward with a focused mindset.  She said she even pushed herself too much between the tournaments, not stopping from Europeans until Worlds.  That her hard work and mindset definitely paid off.
Because she is such a strong advocate for women we asked her about some of her favorite new black belts fighting alongside her.  She mentioned some of her favorites are Talita Alencar (Alliance), Bianca Basilio (Almeida BJJ), Nathiely de Jesus (PSLPB), Jessica Flowers (Gracie Barra), Ana Carolina Vieira and Thamires Aquino (GFTeam) and Nivia Moura (Ribeiro BJJ).  She says that all of these women are extremely talented but that there also a lot more women out there that deserve to be recognized as an important part of the growing women's jiu jitsu competitive scene.
 Tayane is an inspiration for many women in the jiu jitsu community.  For those hoping and working to follow in Tayane's footsteps she leaves this encouraging message, "Don't give up on your dreams.  It may be a hard path to follow but giving up will cost more in the long run.  Chase what you want and see it as a possible thing to achieve, leave it up to God to make up for the rest".      
By: Paulo Roberto Santana