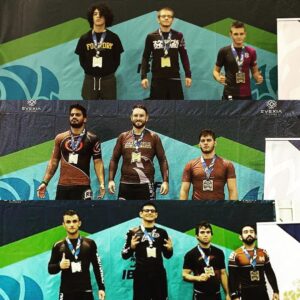 In the world of No-Gi grappling the No-Gi Pan American Championship is amongst the most prestigious. Usually drawing world-class competitors and teams alike, the 2016 edition of this event was no different. Team Lucas Lepri sent three athletes to compete at the event and incredibly, all three went on to earn medals. We spoke with the three to get a bit of insight into their thoughts and training habits as they reflected on their performances.
Dean Lewis: No-Gi Pan-Ams Champion (Roosterweight,Purple)
What was your training like the week leading up to this years No-Gi Pan-Ams? 
The entire last month before the competition I was training Monday-Saturday. Monday-Thursdays I would train twice a day and on Friday I would train once in the afternoon. I made sure each training session was very intense; I usually did 7 or 8 rounds of 8 minutes each. I tried to roll as hard as I could for at least 45 minutes every day. On Friday nights I would add in an extra drilling session and I also tried to mix in at least two Strength and Conditioning sessions per week. That's all in addition to the drilling and technique I was doing with the team, which was about 45-50 minutes itself per day.
Going into first match did you have a plan in mind of what you were going to do? Or do you prefer to just react to what's happening at that time?
I think that a lot of people (including myself) have their first action planned out. I may plan to either pull guard or shoot a takedown (depending on the situation), but after that it's all just me reacting to my opponent and what's going on at that specific moment.
At this point in your jiujitsu career you've competed quite a bit, do you still get nervous or feel any anxiety before you compete? 
I'm nervous every single time. Honestly every single time before a tournament I'm nervous, to the point where I can't eat the morning of. But at this point I just know what to expect and how to deal with it, it's part of the process to me. I listen to music and try to relax, just focus on myself and what I need to do.
Mike Schweiger: No-Gi Pan Ams Champion (Brown belt, super heavy)
What was your training like the week leading up to this years No-Gi Pan-Ams?
I actually trained mostly with the Gi for this tournament. 2 days per week I trained No-Gi. I trained every day (Monday-Saturday), and about 3x per week I trained in the morning and at night. I did about 45 minutes of technique and drilling per class, then about 50 minutes of live rolling. A lot of the drilling we did were full sequences, rather than just individual moves. I like to train it all; takedowns, working from guard, passing etc. You never know where the match is going to end up so I like to be prepared for anything that can happen.
What's your opinion on the role of "team" in an individual sport like JiuJitsu? 
Well I grew up wrestling which is also considered a team sport. But in both sports team is absolutely essential, no one walks alone as they say. If you're not in an environment that's positive and where you're constantly learning and being pushed and training partners that force you to evolve…..you won't evolve. It's easy to become stagnant, for negative people to pull you down and effect your mindset. So team is essential, being with a good team and a good group of people is priceless. It honestly makes a huge difference. Environment will effect you whether you think it does or not, so I think having a good team around is absolutely one of the most important things.
Fred Silva: No-Gi Pan-Ams Bronze medalist (Brown belt, lightweight)
What was your training like the week leading up to this years No-Gi Pan-Ams? 
I actually competed the week before No-Gi Pans at this year's Atlanta Open. During that competition I made sure to take note of things that were working, and things that I struggled with and spent a lot of my time preparing by trying to fix some of my mistakes I had made, and trying to improve some of my weaknesses.
You're a seasoned competitor at this point, do you have any advice for someone that may be feeling some nervousness or fear before they compete? 
You have to believe in yourself, you really do. Train hard, believe in yourself and never, never give up. Eventually things will work out, you just have to hang in there until that point.
By: Kenneth Page