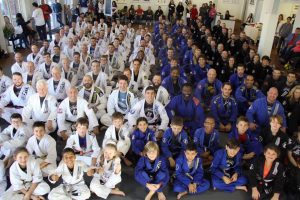 Hailing from Minas Gerais, Uberlandia, Brazil Lucas Alves Lepri is undeniably one of the greatest BJJ practitioners living, referred to by Fabio Gurgel as "the best lightweight in all of history". Following nearly a decade's worth of exemplary performances on the world stage, 2016 would prove to be no different. From capturing yet another World Championship in the black belt division (his SIXTH overall) to creating THREE (3) World Champions in only his second year as Academy owner/Head Instructor, Lucas Lepri once again proved to the world that his techniques and particular methodologies work. Even GracieMag (the worlds most prestigious Grappling and Lifestyle magazine) took notice, placing Lucas on the cover and giving him a full spread to demonstrate the incredible effectiveness of his techniques and the overall efficacy of his style.
Training primarily with his teacher Elan Santiago from Lucas' humble beginnings in the sport, a new opportunity arose that would alter the course of the sport as BJJ Icon Fernando Terere formed a team (TT) and the young Lepri was fortunate enough to count himself amongst it's affiliation members. During their training sessions hard grueling work and constant improvement was the focus. Amongst future legends such as Cobrinha, Andre Galvao, Marcelo Garcia, Terere himself and others, Lucas worked tirelessly to refine his craft. Placed within a sea of such remarkable talent Lucas only had two choices; sink or swim. Upon realizing and fully accepting such a momentous task, his teammates would get their first glimpse(s) into the future. Initially being promoted from White belt to Blue belt in just 4 short months Lucas would incredibly go on to receive his black belt in just 6 short years. Immediately proving himself worthy of such a lofty accomplishment he would emerge from relative anonymity to win the 2007 Mundials in just his first year as a Black Belt.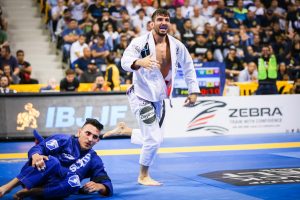 Continuously doing the unexpected thru nearly a decade of top level competition-winning against all odds and with minimal fanfare-2016 would be a year in which Lucas would assert that he was indeed the best. Coming off of a World Championship campaign that saw him submit all but one of his opponents-a performance FloGrappling would refer to as "Flawless"-Lucas would immediately turn his attention to coaching and teaching his students around the world. "When I first came to America I spent much of my time coaching at both Fabio Clemente's Academy in New York city and Master Jacare's academy in Atlanta, and I was always watching and learning from the way they did things. I gained experience teaching and coaching, and I told myself that when I get my own school I would implement some of the things I learned. Of course I wanted to focus on excellent technique, but I really wanted to provide a role model outside of the mats that my students could look up to. I wanted to stress the positive lifestyle aspects of Jiu-Jitsu, not just the fighting or competition" Lucas said. With his team utilizing the methods and techniques he's used his entire career and with Lepri now steering the ship as Captain, the results were immediate and striking. Within the first TWO years of opening and teaching at his school full-time (a feat he manages whilst still competing and winning internationally) the unique training methods of Lepri have produced Three World Champions, Three Pan-American Champions, an overall team victory at the homebase of the team the "IBJJF Charlotte Open", along with countless regional medals.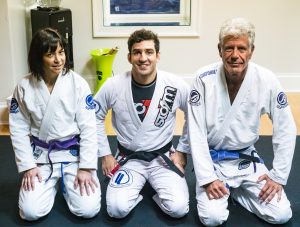 Seeing the results produced directly by his hands, the draw for Lucas as a teacher has grown immensely. From being the personal house guest and private seminar instructor of acclaimed chef and BJJ convert Anthony Bourdain, to being flown to the Middle East to personally teach and work with a member of the UAE's ruling family, those whom are used to the best are now personally requesting the best in increasing numbers. Though the workload and traveling is daunting Lucas does it for the betterment of his team, a group he considers family. "It really is tiring, competing and teaching and traveling and giving my best at each one of them. But I know that it will pay off, people will see the handwork and results and realize that when you're a member of a family like this and everyone is always giving their best to see you successful….anything is possible".
With only two years in existence; multiple world champions, a Team Title, and affiliates on 3 separate continents it seems that the Lepri-BJJ family takeover is well under way.
By: Kenneth Page