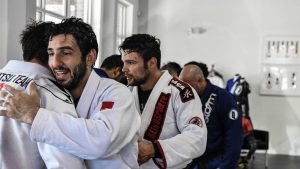 After two grueling weeks of training the IBJJF World Jiu Jitsu training Camp at Lepri Brazilian Jiu Jitstu HQ has commenced.  Camp is a unique training experience and something everyone participating in this sport should experience.  While training in Camp, we are not just learning and perfecting technique and strengthening our bodies, we are conditioning our minds and learning more about ourselves.
Guided by Master Lucas Lepri, we were encouraged to try our best, repeating different positions until they become our natural and instinctual movements.  We completed several rounds of training with our teammates often doubting that we could make it to the end of that round, or the next one….or the next one  It was inspiring for all of us to look around and see that even though we were all reaching the point of exhaustion, no one was giving up.  We were in this together.  Following in the footsteps of our Master, whose hard work and dedication to the sport is an inspiration for all us.  He trained exhausted alongside all of us, being attentive to our hard work and showing us that yes we can do this and yes, it will be worth it.
When the physical pains turned into mental pains and were threatening to overtake us, Lucas was there to support us.  He showed us the way to be strong and how to train with a purpose.  Teaching us to know when the proper time to push was and the times to preserve our energy.  Even in the midst of intense training we learned to watch for our mistakes, and learn from them.  Not only was he giving us a physical game, but a mental one as well.  Teaching by example on how to remain positive and not letting negative thoughts control our emotions.  Teaching us how to remain focused and have willpower but at the same time being compassionate and understanding with our teammates.  Asking for help and helping each other out with technique or competition advice created an unshakeable team bond.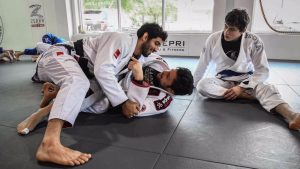 One of the benefits of training at Camp is the opportunity to learn from previous World Champions from all over the world.  Knowing that they have been through this journey and succeeded gives us hope and determination.  Being able to turn to them for advice and help is a great honor.  Tarsis Humphrey and Bernardo Faria were a great asset to our training camp.  Lending us support and technique and setting a great example of hard work and dedication.  In addition to Tarsis and Bernardo, several athletes of different belt ranks came from different parts of the country to make Lepri BJJ HQ their home for two weeks.
The visit of the FloGrappling crew was a highlight of this Camp as they came to document our preparation for Worlds.  It was an honor to be amongst the chosen academies by Flograpping, as they are doing great things by popularizing the sport of jiu jitsu.  Make sure to check out the links at the bottom of the article to see the photos and videos published by Flograppling!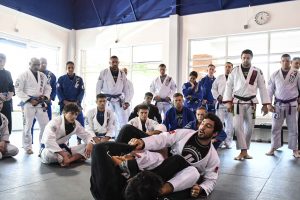 After a strenuous two weeks of morning and evening training sessions, strength and conditioning and mental preparation, the Lucas Lepri team is ready to take their stand at the World Championship.  Armed with gratitude for this opportunity as well as the certainty that we have trained our best, we are ready battle!  Make sure to follow along and support the team June 1-4 as a new chapter in jiu jistu history is written.
By: Paulo Roberto Santana
Pictures by: Chase Smith / FloGrappling
FloGrappling links during their visit at Lepri BJJ HQ:
http://www.flograppling.com/article/56404-road-to-worlds-off-the-cuff-with-lucas-lepri-a-live-q-a#.WSxpUTYXn0s
http://www.flograppling.com/video/1201031-lucas-lepri-teaches-fundamentals-jiujitsu-class#.WSxpaDYXn0s
http://www.flograppling.com/people/21761-lucas-lepri
http://www.flograppling.com/video/1206431-lucas-lepri-talks-worlds-2017
http://www.flograppling.com/article/56446-road-to-worlds-inside-look-at-lucas-lepri-s-competition-team-training#.WSxpojYXn0s
http://www.flograppling.com/video/1206401-lucas-lepri-spider-guard-sweep
http://www.flograppling.com/video/1206419-lucas-lepri-discusses-lost-motivation#.WSxpyTYXn0s
http://www.flograppling.com/article/56453-lucas-lepri-almost-didn-t-compete-at-2016-ibjjf-world-championships
http://www.flograppling.com/video/1206492-the-vlog-road-to-worlds-episode-two-at-lucas-lepri-bjj#.WSxp_DYXn0s
http://www.flograppling.com/article/56481-meet-the-team-lucas-lepri-bjj-gets-ready-for-ibjjf-worlds#.WSxqDDYXn0s
http://www.flograppling.com/video/1206494-lucas-lepri-2017-ibjjf-world-championships-training-camp-highlight#.WSxqGzYXn0s
http://www.flograppling.com/video/1206669-lucas-lepris-midnight-strength-conditioning-training-session#.WSxqKjYXn0s